Welcome to the Catapult One Home Page. This is the default page you will see every time you log in to the platform.
Clicking Home will bring you back to the main dashboard. Clicking the other pages: Season, Session, or Player will bring you to those pages.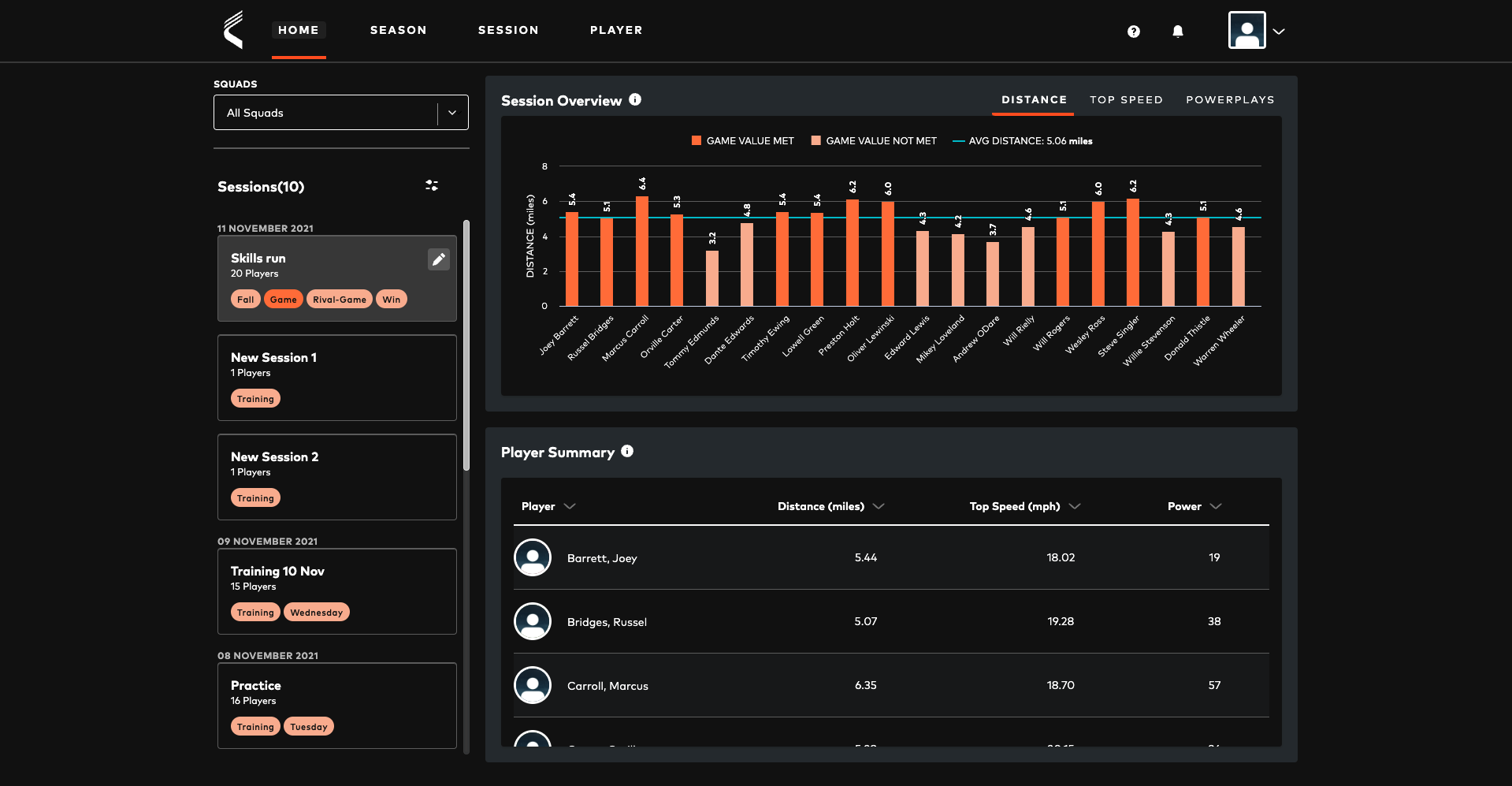 How to navigate through the Home Page
Help
Clicking the question mark help icon will bring up the first time user guides to refer to and the Catapult One Support Link.

Clicking the Bell icon will bring up any important account notifications. A number will appear on top of the bell as a count for how many notifications you currently have.
Account
Clicking the person icon, or your team's logo (if you have uploaded one to your profile) will bring you to your account settings. In settings you can manage your account, download the sync tool, manage users and squads, and view our terms and conditions and privacy policy
Squads
Displayed on the left hand side is your squad drop down menu. From the drop down you can choose a specific squad or you can choose all squads and that data on the right hand side will change accordingly.
Sessions and Tag Filter
Any recorded session that has been uploaded to the platform from your Catapult One pod will show up here in chronological order:
Tag Filter
A quick way to view sessions with the same tag is to use the tag filter button

Clicking on this button will give you a drop down and select menu for all your current tags

Click the check box to view all sessions with that tag

You can select 1 or multiple tags at a time
Edit Session
To edit a session click on the pencil button.

That will bring you to the edit session page where you can change the name of the practice or game

You can choose the session type: Training or Game

Add or create tags in the tags box

Set the Pitch

Set the Splits

View players in the session
When you are finished click the save button to save your work or push cancel to go back to the home page
Session Overview
The session overview is the main graph of the home page. By clicking on the metrics on top of the graph you can switch the data to view: Distance, Top Speed, or Power Plays. This graph will default to your most recent session's data, but you can change which session's data to view by click on the session.
Player Summary
The player summary is the same information as the Session Overview just in a chart format instead of the bar graph. You will be able to see the Distance, Top Speed, and Power in the chart and can sort the data ascending or descending by clicking on the metric or player row labels at the top of the chart.