What are Leaderboards?
Leaderboards allow global comparison of other Catapult One users.
Users must upload at least one session to see Leaderboards,
Leaderboards within the Catapult One app cover four key metrics:
Total Distance
Top Speed (A minimum of 5 sessions are needed to get this)
Power Plays
Sprint Distance
These are all segmented by time, position and age.
Default Leaderboard Views
The default view for leaderboards is the month and specific to a users category

My Category is made up of:
Age segment - 13-17, 18-23, 24-29, 30-35 and 36+
Gender - Male/Female
Position - DEF, MID, ATT
The month is the calendar month and will reset every 1st of the month
There is also a section to Opt-in and out of Leaderboards within settings: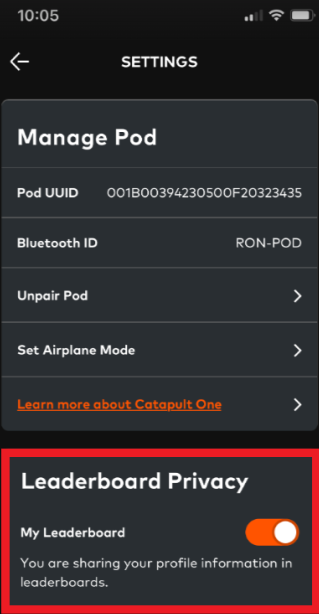 Customers also have the option to change the filters within the app: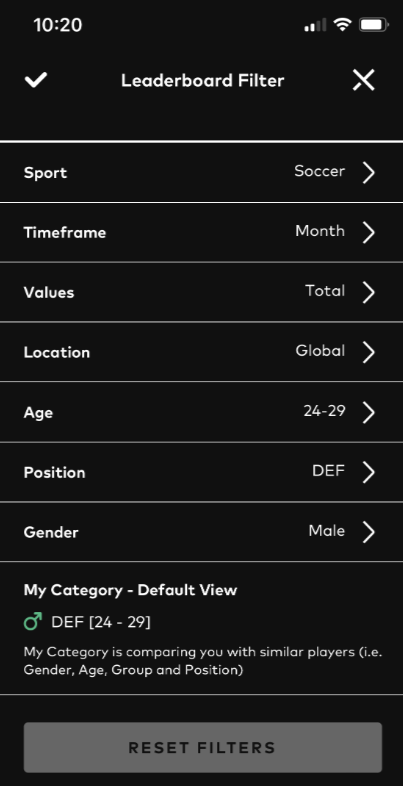 Note: if there aren't enough users in a specific country, the location filter will not be visible.
Toggling off My Category will let your athletes see where they rank across all ages and positions, globally.
If a user changes any timeframe (MonthYear), or switches off the My Category, the Reset Filters button at the bottom becomes active.
Tapping the Reset Filters button will restore the leaderboard to Month and My Category.
To view the leaderboard changes, Year and All athletes, the athlete will need to tap on the tick to apply the changes and view the leaderboard.
If an athlete does have any sessions in the current month, the view will default to Year.
You can see only the 25 players around your ranking.